Current Mood:

relaxed


It's great living with someone else because cooking for one is nowhere near as fun - no one there to enjoy your food when you've made something really nice. I'll try and take photos of my gluten free cooking more :)

Sadly during the week I don't have too much time to cook special things but I do try and make healthy food at least. It's quite sad but I love having a fridge full of food to cook with.

Better go, time for work! X
I've decided I'm going to try and talk more about food and cooking on here since eating good food is one of my favourite things :) I really enjoy cooking for people even though I don't have that much confidence in my abilities! I'm getting better at cooking without recipes and made lamb tagine without one for Nick's friends at the weekend, which was tasty even though it didn't actually fit in my tagine pot and spilt all over the cooker haha.
I think the highlight of it for me was the night we went to a piano bar - the pianist was amazing and loved us, playing French classics along with Lady Gaga and Katy Perry and even played a jazzy version of the Spice Girls Wannabe when we requested it :) We were danced with three crazy French people (limboing, conga-ing and even robot-ing). Plus I got to sit on the piano :) So a great night and a lovely end to an amazing day.
(
Have some photos!
Collapse
)
I just spent two amazing (and very very packed!) days and nights in Paris with four friends. Unfortunately the 2hour journey there became a 4 and 1/2 hour one because our Eurostar broke so we needed to get a new one but that was really the only bad thing that happened.
Unfortunately I found the men in markets were quite aggressive towards people taking photos, even if you asked they insisted you buy something so I didn't take as many as I'd have liked to (but still took lots!!). Here are the ones I managed.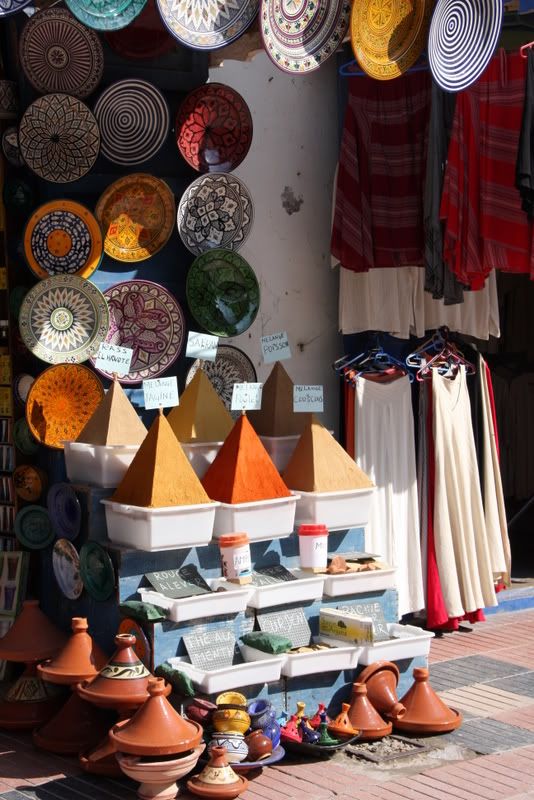 (
Warning - loads of photos!
Collapse
)
Sorry for the late posting, I had trouble uploading these! Here are some photos from my holiday in Essaouira, Morocco with my parents and brother.
Current Mood:

cheerful
I passed the really really horrible 3 hour tax exam I did in May!!!! I was so scared I wasn't going to (if I fail an exam twice I lose my job and this one felt really tough!) WOOOHOOO!!! They publish a public list of names of people who pass on the website so I was really scared! So relieved!!!
I'll be on holiday in Morocco with my family for two weeks from Monday. Can't wait! The workload has petered out at my job for the moment so it's a good time for it and I need to refresh. Looking forward to taking photos, eating loads and riding camels!
Current Mood:

bouncy
The Seal! from Renlearn UK on Vimeo.
Nick and I are moving into our flat tomorrow yay :) Goodbye hideously long commute of doom, hello extra hour of sleep :)
This is filmed outside our office. I can't believe there are seals in the Thames! I hope it's ok.
blood donor
:( (strange I have such small veins when the rest of my family all have veins like tree branches!) Last time it was a problem too but after a lot of work they got about half a pint out of me and said that maybe next time my veins would be wider. Unfortunately today they had to wiggle the needle around in me for a long time to decide that I'm no good as a donor, which made me very nauseous and means my poor arm is rather bruised. It's a shame but at least I tried! And at least I can still be an
organ donor
, yay!
I tried to give blood today but apparently my veins are too small to be a
Current Mood:

disappointed


My laptop turned off yesterday and won't turn back on. The battery's been dead for a while and so I thought it was a problem with the power adapter but now I think it's a problem with the motherboard (just after I ordered a new power adapter, d'oh!) I had most of the data backed up on CD except for a few photos which I'm going to try and recover using a usb hard drive caddy. The laptop was a pricey one and is only two years old but since the battery is dead, the screen is smashed and now the motherboard is fried I'm thinking it's time to get a new one. A cheaper one with a longer warranty :(

I bought car insurance yesterday, so much easier and quicker to organise than I thought! Cheaper than I thought it would be too - only £630 for the two of us (would be £520 for me by myself as I am neither foreign nor male). Will take a little time to get used to the car - today once the rush hour's over I'm going to drive down to the gym and practice driving a bit. It'll be so nice to be able to take the car out whenever I want. Thinking I should get a satnav device because I get lost so easily :)

Work has sent me a big scary pile of books on accountancy, business law and tax so that'll keep me busy this month..!
Hmm Ok I am jetlagged - fell asleep at 4pm because I couldn't keep my eyes open and woke up at 3:30am with a nice big headache (probably from sleeping too long!) Feel like part of my brain's still asleep.
I'm back from Australia and I'll be picking up Nick on Thursday. Hopefully in the Ford Puma newly insured for both of us. I hope the cold weather isn't too tough for Nick and that job hunting doesn't depress him too much! I don't have any jetlag but it's pretty weird moving from summer to winter in a day.